23 October 2018
One of the many unintended consequences of the Global Financial Crisis (GFC), and global authorities' reaction to it, has been the restriction of trade finance. The introduction of stringent capital adequacy requirements for banks by regulators has prompted a wide-scale withdrawal from the market by global banks. The resultant 'trade finance gap', which is estimated to be USD 1.5 trillion by the Asian Development Bank in its 2017 survey, especially impacts micro, small and medium-sized enterprises (MSMEs) across emerging markets and threatens to hinder the development of new trade opportunities – ultimately impacting the potential for global growth. However, this sizeable finance gap does create an opportunity for non-bank investors.
What is Commodity Trade Finance?
Commodity Trade Finance (CTF) is the provision of funding solutions to support the movement of physical commodities being traded along the commodity supply chain. Lending can be to any one or all of the parties involved in this process and can cover trading, production, processing, transportation and the distribution of essential commodities throughout the world. Producers, processors and traders all rely on this flow of funds for a range of transactions such as pre-paying suppliers, payment for goods in transit, financing stocks or issuing letters of credit to suppliers.
Typically, a loan is granted to a borrower to purchase a commodity in order to process it or package it for delivery to a third party where the proceeds from the sale are sufficient to meet the borrower's costs (including funding) and provide a profit. Such transactions are often referred to as self-liquidating finance, meaning the loan will be repaid from the cash flow generated through the natural evolution of the transaction itself rather than from the borrower's general assets or any independent source. However, it is important to note that lending is subject to the perceived quality of the buyer whose settlement provides the source of repayment.
CTF as a proposition tends to be based around versatile, transparent solutions that are frequently asset-backed (ie collateralised by the underlying commodity or its receivable), are short term in nature, have a good level of repeatability and are typically used for strategic or essential commercial inputs. A further attraction is its ability to add value for reward through lending in a variety of ways to any or all of the parties along a transaction chain, where doing so not only provides greater transparency but also improves the risk profile by having greater control of the commodity and cash flow for a longer period of time.
Moreover, because commodities are used as essential inputs to manufacturing or construction, or to food or energy production, and in some cases are strategic (eg oil for an economy) the likelihood of wilful default by a buyer is considerably less than for some finished goods. This all contributes to the relatively low average default rate (0.21%) experienced by the core commodity lenders.
Changing opportunity dynamics
World trade has been growing year-on-year almost consistently throughout the past decade and should continue to be supported by a benign global macroeconomic outlook. Such a backdrop is supportive of commodities and, barring any major challenges, the demand for CTF is anticipated to remain healthy and buoyant at an estimated 30% - 35% of the global trade finance market. Even so, CTF remains under the radar as an investible asset class.
Chart 1: Global trade flows to grow by 4% per year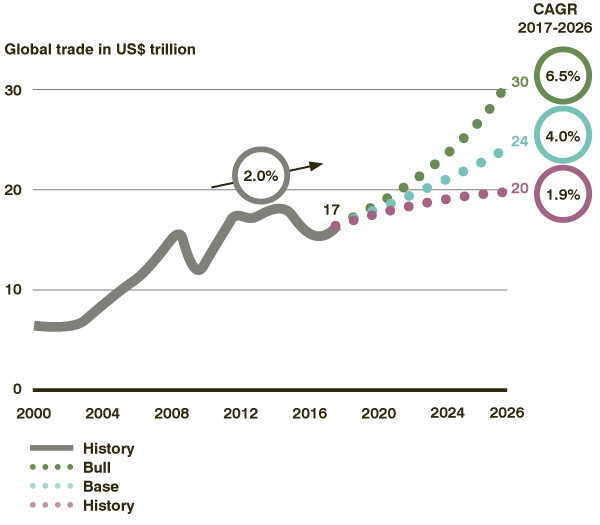 Source: BCG Trade Finance Model 2017.
Historically, CTF has resided under the umbrellas of global transaction banking or general corporate banks, but the aftermath of the GFC prompted significant change. A series of regulatory and compliance rulings in relation to capital adequacy – such as Basel II, III and IV, as well as from the Federal Reserve – have significantly constrained the activities of banks by requiring the provision of more capital against the asset class and thereby reducing its profitability. The knock-on effect of this increased level of regulatory burden has been a wide-scale withdrawal by banks from their former role of dominant players in CTF, which has widened the trade finance gap – estimated by the Asian Development Bank to be USD 1.5 trillion pa globally – and made it more difficult for smaller companies to access much needed finance, particularly in the developing world.
Source: 2018 ICC Global Survey on Trade Finance.
Change creates opportunity, however, and in the face of diminished liquidity from banks, the door has opened to institutional investors and specialist funds to participate in these trade deals, particularly targeting MSMEs with opportunities for structured or asset-backed lending. Funds, in particular, are not presently constrained by the same regulatory pressures as the banks, often incorporate risk management measures and have the ability to provide speedy decisions, without losing sight of vital due diligence.
Attractive risk return profile
The development of CTF as an investible asset class is an attractive proposition for investors as it offers a relatively low risk, liquid, low volatility investment. Moreover, yields are uncorrelated with stocks and bonds, making a CTF portfolio a sensible addition to a diversified investment portfolio.
However, it is important that investors take care to understand exactly what is being offered given the varying types of investment structures available and their differing risk / return profiles. In general terms, CTF returns are found to compare favourably to investing in bonds or leveraged loans and have a track record of consistent returns. As with most types of investment, the levels of return available tend to be commensurate with how established and liquid that market is. This means a more geographically diversified offering may be best suited to deliver a reasonable level of return.
Experience counts
While CTF has some clearly recognisable attractions, it is certainly not without risk. Therefore, it is important investors recognise the need to work with experienced and professional practitioners who understand the transactional risks, can source quality counterparts, carry out appropriate due diligence and apply and monitor mitigants. In short, investors need to understand something of the risk profile they are buying into.
Additionally, while outright loss from financing a failed trade seldom happens, the potential for financial crime needs to be considered. Therefore, the ability to understand and manage such risks through an experienced transaction management and risk oversight capability becomes essential. The best mitigant in any CTF risk management process is 'to trust but verify'. There is no substitute for performing substantial due diligence ahead of lending and then conducting ongoing monitoring as the transaction unfolds.
As with any investment opportunity, it is essential to check the credentials of the business you are working with and ensure the offering suits your risk profile, but for investors seeking new sources of return with low volatility, we believe CTF represents a growing opportunity with the potential to enhance any diversified portfolio.
Important legal information

The information in this document is given for information purposes only and does not qualify as investment advice. Opinions and assessments contained in this document may change and reflect the point of view of GAM in the current economic environment. No liability shall be accepted for the accuracy and completeness of the information. Past performance is no indicator for the current or future development.